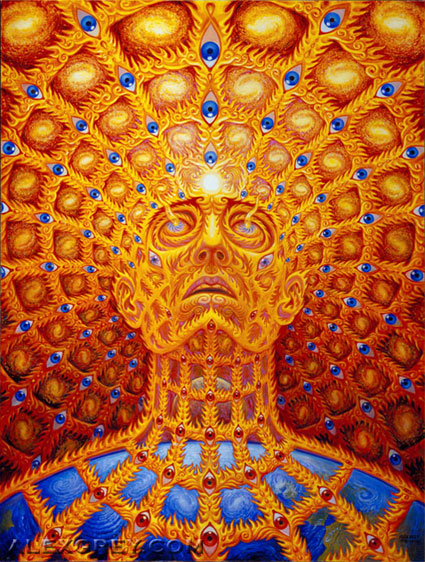 It's obvious that the war on drugs is not about protecting people from harmful substances. If it was, then alcohol, cigarettes, and maybe even coffee (can you imagine an office in Western society where you can't get coffee?), would definitely be illegal. Those are highly addictive and harmful substances, but they're still very much promoted by society. Nothing wrong with that, really, since we should be able to decide for ourselves what to do with our bodies, but the hypocrisy is fascinating, and the anti-drug propaganda is still as mindless as it's always been. So, the war is clearly about controlling the cash flow, and ultimately controlling what people think. In other words, it's about capitalism.
I've been following The Joe Rogan Experience podcast off and on since 2010, and some of the most interesting shows have been about exploring the human mind with the help of meditation, floatation tanks, weed and hallucinogens. It's basically dealing with how little we really know about ourselves and the universe. Then there's the Ayahuasca experience, which is taking it to the next level.
The Ayahuasca experience seems to be most rewarding when it comes to getting to terms with yourself, but it also seems to be extremely challenging and scary as hell. This is not something you do for fun to spice up your boring party, and it's certainly not about fake new age imagery either. Faking to be spiritual is actually preventing you from being spiritual, as Chris Marcus says in episode #127 of The Joe Rogan Experience, and Ayahuasca will make you feel like shit for real, so no use in faking there.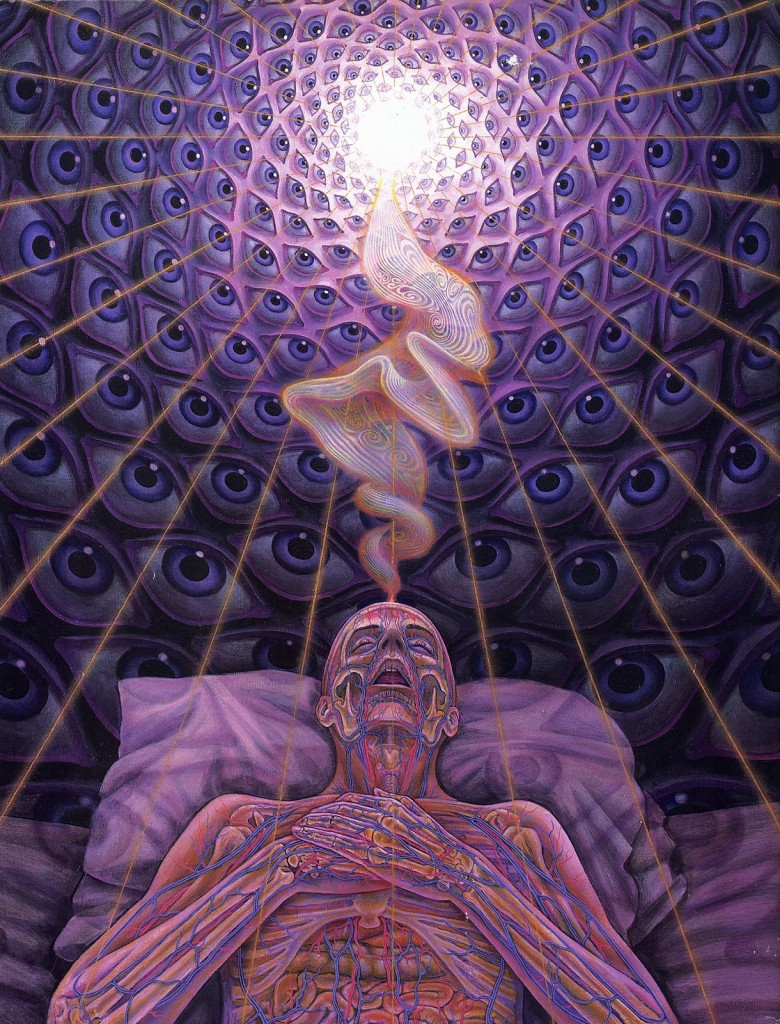 Art by Alex Grey – alexgrey.com
The big problem, as with anything that gets exploited and hyped up, seems to be to find the real deal. People are keen to take your money, but they might have no interest in the plant or the experience, and according to those who know, this could be disastrous. Ayahuasca tourism has been in full effect for a couple of years already, and it's probably getting worse as more and more people discover its potential.
––––––––––
There's a vast amount of information about Ayahuasca on the internet, of course. Here are some of the resources I've found particularly useful when trying to figure out what it's all about:
Documentaries
Manifesting the Mind (2011) – A great introduction to psychedelics.
DMT: The Spirit Molecule (2010) – A film based on Dr. Rick Strassman's book with the same name, where he explores the effects of DMT. His research was approved by the U.S. government.
Video podcasts
The Joe Rogan Experience #127, August 3 2011 – Part 1 – Part 2
The Ayahuasca experience of Aubrey Marcus, who went to Peru for the real deal with the shamans. I'd been reading a bit about Ayahuasca before, but this is what got me really interested.
London Real, March 18 2012 – Ready to Die
A really cool video podcast inspired by The Joe Rogan Experience.
"Brian Rose & Nic Gabriel talk about their upcoming retreat with Ayahuasca, the controversial hallucinogen and 'Plant Teacher'. After spending 10 days on a rigorous diet of no sugar, salt, caffeine, alcohol, drugs, wheat, red meat, dairy, soy or spices, they discuss their anxiety and anticipation about the upcoming experience and how it will change their lives."
While Joe Rogan totally rule, he might be a bit too talkative, interrupting his guests a bit too often and straying away from the subject only to return twenty minutes later, which kind of annoys me at times. Brian and Nic are quite mild in their approach, and their show is about an hour long (The JRE may last up till three hours). London Real is well worth watching!
London Real, March 28 2012 – Back from the Dead
"Brian Rose & Nic Gabriel talk about the fear, anxiety, anticipation, and excitement of their first Ayahuasca retreat in the UK and how they felt physically, emotionally, and spiritually before, during, and directly after ingesting the "Plant Teacher." They detail the logistics of the actual ceremony and describe the sensations felt hour-by-hour as the medicine traversed their bodies and conclude with individual life lessons drawn from the experience."
Graham Hancock on Ayahuasca and Consciousness, 
The great writer and journalist Mr. Hancock is hooked on Ayahuasca. Here he tells his story to Sonia Doubell.
The Joe Rogan Experience #195, March 13 2012
Aubrey Marcus again. This time he's been to Costa Rica, getting crazy with Ibogaine, which is even tougher than Ayahuasca.
London Real, April 30 2012 – The Secret Bliss
Brian and Nic talking to the above mentioned Sonia Doubell about her Ayahuasca experience, meditation and more.