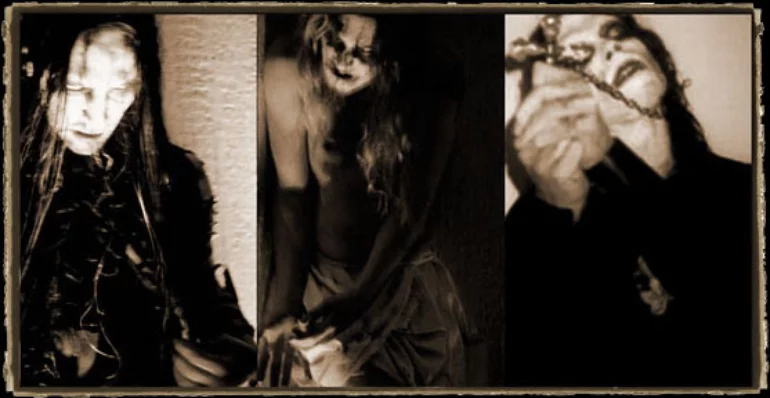 Det finns såklart spår av vad som komma skall på mini-LP:n "Devilry" (1998), men ingen hade väl kunnat ana vilket brutalt jävla övergrepp "Salvation" skulle innebära fem år senare. Den ångvält som albumdebuten utgör saknar motstycke i black metal-historien. Åtminstone där och då i min revisionistiska bok.
2003 var black metal nämligen något uddlöst och intetsägande. Mainstream, helt enkelt. En formula som upprepade sig själv. Ljudmässigt kunde det knappast låta tristare. Textmässigt är det svårt att hitta något mer andefattigt. Men allkonstnären Arioch och batteristen tillika producenten Necromorbus gav uppenbarligen fan i den själlösa nutiden och skapade något som hämtat direkt från ett ortodoxt helvete.
Redan efter nittio sekunder står det klart att detta är våld mot alla sinnen. Religiöst, fanatiskt våld i sin smutsigaste form, som hitsänt av Satan själv. En förkunnelse av och en uppgörelse med kristendomen, helt utan skygglappar och initierat som få, och med en vibrerande mörk kraft i botten. När Necromorbus vrider upp tempot i inledande "Agnus Dei" fattar man att det är helt kört. Sedan fortsätter misshandeln i spår efter spår; lager på lager av kaos, likt en tonsatt apokalyps som exploderar och imploderar samtidigt, till dess att skeva fioler från den över hundra år gamla skräckfilmen "Körkarlen" (1921) av Victor Sjöström ekar ut i tomrummet. Världen har aldrig hört något liknande.
Men bland alla dessa lager finns dessutom låtar. Kompositioner. Melodier och ljud som biter sig fast. En atmosfär som dryper av fasa. Det är få plattor som får mig att känna genuint obehag, som får mig att må psykiskt dåligt. "Salvation" är en av dom, och jag välkomnar den känslan. Att öppna upp sinnena för Funeral Mist är som att ingå i ett väckelsemöte. Gudsfruktan och djävulsdyrkan i symbios. Jag får flashbacks till barndomens tältmöten med Pingstkyrkan där vuxna män talade i tungor. "Shine through me, Satan! Yes, live now through this tool of yours. Live through me, O seditious star, and like a thousand suns shall I spread thy light"… Fy fan, vilka minnen!
Ariochs röst går genom märg och ben. Varje andetag sliter sönder, varje skrik har sin plats. Ofta är rösten överallt, körd genom effekter, baklänges, upp och ner och ut och in. Alltid organisk. Hela ljudbilden är organisk. Stundtals som en rejäl knytnäve rakt in i magen, andra gånger surrande likt flugor kring lik. Utan rösten inget Funeral Mist. Och betänk en tidstypisk metalproduktion anno 2003 på "Salvation". Bevare oss väl. Bra produktioner sänker ofta skivor av denna kaliber. Det måste vara bra på rätt sätt, annars blir det platt, livlöst och tråkigt.
Men "Salvation" är aldrig tråkig, särskilt inte i "Sun of Hope". Här bildar flagellanter i procession en skrämmande fond under vredens dag. Scenen är tagen från Ingmar Bergmans "Det sjunde inseglet" (1957) och återkommer i slutet av låten, vars sista rad lyder "Purity comes when death is all". Dessförinnan har den slutgiltiga striden mot Guds krafter utkämpats, och eskatologin är fulländad. Det finns inte en sekund som går förlorad här. Tränger man igenom väggen av kaos belönas man rikligt med ett ständigt varierande flöde av energier.
Det är tveksamt om kraut och shoegaze fanns i Funeral Mists sinnevärld för tjuo år sedan, men det transframkallande, monotona malandet gav åtminstone mig en resa åt det hållet vid första lyssningen. Pulserande, hypnotiskt. "Circle of Eyes" är praktexemplet.
Är "Salvation" det bästa som hänt black metal sedan Mayhems "De Mysteriis Dom Sathanas"? Tveklöst. Men sex år senare kom "Maranatha".

Året är 2009 och det har gått drygt 1980 dagar sedan vi kördes över fullständigt av mästerverket "Salvation". Omslaget till nya "Maranatha" visar bland annat en äldre dam (med betoning på äldre och med citationstecken runt dam) som visar fittan. Vid belyssning hörs en televangelist ropandes något om blodet, Djävulen och Jesus. Allt är som det ska vara. Men ändå inte. Något har hänt.
Kan black metal låta så här? Utblåset vid 03:13 i "White Stone" ger mig gåshud och jag inser att black metal kan låta hur som helst, så länge Satan finns i detaljerna och det finns ett uns av metal.
"Jesus Saves" kommer an med samma urkraft som i Burzums "Jesu død". Den senare nickningen till Wovenhand (namnet symboliserar två händer sammanflätade i bön), ett band under ledning av den svårt kristne David Eugene Edwards, är inget hån, utan snarare ett tecken på ömsesidig respekt. De öser ur samma outtömliga källa, kristendomens Bibel och dess upplevelsevärld.
"A New Light" bländar med vackra körer som abrupt avbryts av ett sinnesslött "Öööh!". Jag tänker mig en dyngrak Gud som har fått slut på tankar. "My throat is a thousand open graves" låter det, och Arioch gurglar gravaska med blod och galla.
"Blessed Curse" stoltserar med ett trumkomp som motoriskt driver på i all oändlighet. Ett urkomp som är så urbota enkelt, men ack så effektivt. När Jerikos horn ljuder och murarna faller har Arioch själv förvandlats till evangelist.
"Anti-Flesh Nimbus" avslutas med en sampling av "Ederlezi", en traditionell rumänsk folksång, kanske mest känd från Emir Kusturicas film "Zigenarnas tid" (1988). Det sista ordet som uttalas på skivan är "God".
Funeral Mist har härmed utvecklats till Ariochs soloprojekt. Han har funnit sin ton och sin tro på att ramen är rak, men går att töjas. Skapelsen är hundra procent black metal, och ändå liknar den inget annat i genren.
5029 dagar senare är det september 2022 och "Maranatha" snurrar fortfarande regelbundet i min hjärna. Så framskrider ett mästerverk.
/Publicerat i Sweden Rock Magazine #12 December 2022